All Are Welcome
The Town of Parachute has various options for you if you are looking to get out and enjoy some sunshine! What ever it is that you are looking for in a park, you'll be sure to find it here. Keep reading for a list of our parks, services and schedule and come find us on your next outdoor adventure!
Services Legend
Park Available for Rent

Seasonal - Memorial Day - Labor Day

Park / Benches

Public Restrooms

Dog Park

Water Feature
Please note, all public restrooms EXCEPT the ones at the Rest Area are on a seasonal schedule and are closed between Labor Day & Memorial Day. Dates & times of closures are subject to change without notice.
Town of Parachute Parks
Cottonwood Park

Cottonwood Park Splash Pad

Wasson-McKay Park

Beasley Park

Parachute Rest Area

Parachute Rest Area Dog Park
Discover the Beauty of Parachute
Town of Parachute Park Rentals
Thank you for your interest in renting one our park facilities for your event. The Town rents out the pavilions at the parks, not the park itself since it is open to the public.
Your rental includes the pavilion, electricity, and an alcohol waiver if you added it to your reservation. Reservations are not final until you have paid all applicable fees, deposits, and have received a confirmation call from the Town. The following rules apply to all Parachute Facility Rentals.
| | |
| --- | --- |
| Park Name | Address |
| Cottonwood Park | 100 La Plata Circle |
| Wasson-McKay Park | 259 Cardinal Way |
| Beasley Pocket Park | 100 W 1st Street |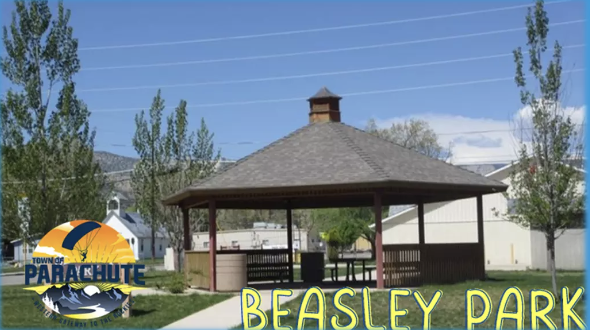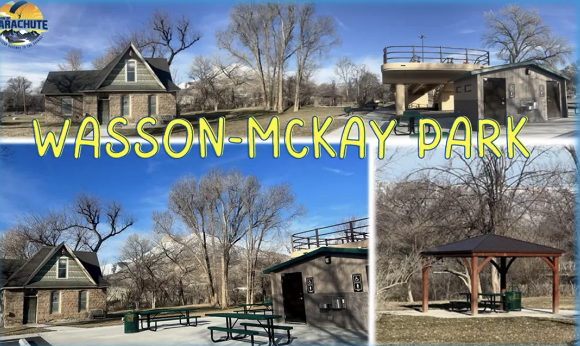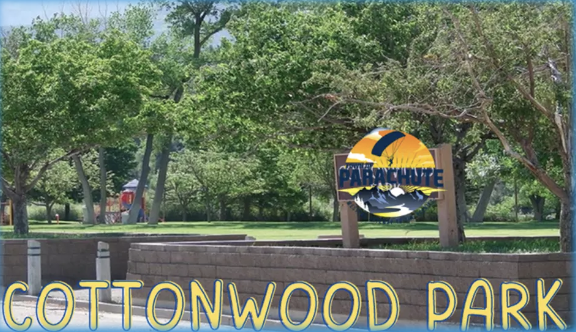 | | | | | | |
| --- | --- | --- | --- | --- | --- |
| Beverages | Clean-Up | Noise | Lawn Care | The Grill | Picnic Tables |
| No Glass Containers - If you plan on having beer at your event, a Limited Open Container waiver may be obtained upon review of your application by a Town representative. This waiver will need to be posted in plain sight at your event. | Trash Clean-Up is mandatory for the return of your deposit. The Town has supplied garbage bags underneath the current bag for clean up . Please place all bagged trash in the large dumpster located at the South end of the park. | Music is allowed, but please be respectful of the surrounding homes. The Parachute Municipal Code 8.02.020 Noise Limitation, designates quiet times to be from 9:00 pm - 7:00 am. | Please do not park or drive vehicles or trailers on the grass or on sidewalks. If you need to put a trailer on the basketball court or have a special request, permission from the Public Works Department will be required. | If you add the grill to your rental, you will need to provide your own propane tank. Please let us know in advance and staff will unlock the grill for your use. | At some parks, the picnic tables are not bolted down and can be moved around. Please put them back how they were found if you decide to do so. |
Reminders
Reservations are not confirmed until
Rental Fee has been paid

Rental Deposit has been paid

Open Container Waiver has been approved (if applicable)

A confirmation call has occurred
If all of these conditions have not been met, your reservation is not final.
Problems With Your Rental?
If you have an issue with your rental during our normal business hours of Monday - Thursday 7:30 am - 5:30 pm, please call Town Hall at (970) 285-7630
If you have an issue with your rental during our non business hours of Friday - Sunday, please call (970) 456-6190
Park Rental Reservation
Cottonwood Park - 100 La Plata Cirlce
Wasson-McKay Park - 259 Cardinal Way
Beasley Park - 100 W. 1st Street
Grill $25.00 The grill is only available at Cottonwood Park. You must provide your own propane.
Alcohol Liability Waiver $50.00. Waiver must be submitted & approved if having beer at your event
I agree to follow the rules
I don't agree to follow the rules and forfeit my deposit